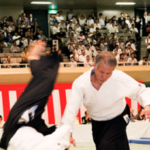 Privat grupp
aktiv för 3 månader, 1 vecka sedan
I hope all who participate in the Anniversary seminar ALSO will give a short demo after the training om the Saturday.
This Will be great! I have asked. The instructors and other martial artist to participate.
Note!  It is completely voluntary, however I I hope you who are 4 kyu and above take a step forward. 😀
Detta är en privat grupp. För att gå med måste du registrera dig på webbplatsen och ansöka om medlemskap.